1 Voltzy Power Bank  (Save $20)  —  

$49.95

   

$29.95

  +  S&H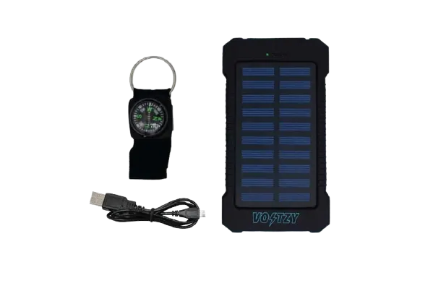 Solar Powered Protection
$49.95 
$29.95
---
IP67 Water-Resistant: Crafted with a durable, rubberized casing, Voltzy handles anything from a splash to a rainstorm
Dust-Resistant: No matter what blows your way, Voltzy's fully protected
5W Solar Panels: These powerful solar panels absorb maximum sunlight for the fastest charge
Multiple Charging Ports: Power up to two USB- equipped devices from 0% to 100% using Voltzy's multiple ports
Emergency Lighting: Getting dark out? Click the button for a flashlight. Need help? Click again for an SOS strobe
Lightweight: Clip Voltzy to your belt or backpack for on-the-go charging
2 Voltzy Power Banks  (Save $40)  —  

$99.90 

 

$59.90  

**FREE S&H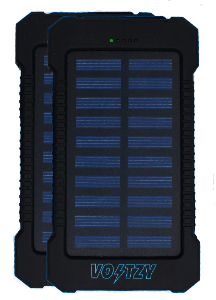 Double Your Solar-Powered
Peace of Mind
$99.90 
$59.90
($29.95 Each)
+ Free Shipping
---
IP67 Water-Resistant: Crafted with a durable, rubberized casing, Voltzy handles anything from a splash to a rainstorm
Dust-Resistant: No matter what blows your way, Voltzy's fully protected
5W Solar Panels: These powerful solar panels absorb maximum sunlight for the fastest charge
Multiple Charging Ports: Power up to two USB- equipped devices from 0% to 100% using Voltzy's multiple ports
Emergency Lighting: Getting dark out? Click the button for a flashlight. Need help? Click again for an SOS strobe
Lightweight: Clip Voltzy to your belt or backpack for on-the-go charging
Use One Every Day & Store One For a Crisis
4 Voltzy Power Banks  (Buy 2 Get 2 FREE)  —  

$199.80

  

$99

   

**FREE S&H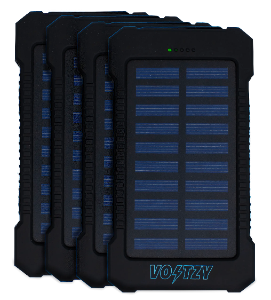 Prepare and Protect Your
Entire Family
$199 
$99.90
($24.90 Each)
+ Free Shipping
---
IP67 Water-Resistant: Crafted with a durable, rubberized casing, Voltzy handles anything from a splash to a rainstorm
Dust-Resistant: No matter what blows your way, Voltzy's fully protected
5W Solar Panels: These powerful solar panels absorb maximum sunlight for the fastest charge
Multiple Charging Ports: Power up to two USB- equipped devices from 0% to 100% using Voltzy's multiple ports
Emergency Lighting: Getting dark out? Click the button for a flashlight. Need help? Click again for an SOS strobe
Lightweight: Clip Voltzy to your belt or backpack for on-the-go charging
"Keeps Me Calm Knowing My Family Is Safe"

I saw a promotion for Voltzy just in the last couple months and bought the 4-pack for me and my family to share.
It seemed like a no-brainer, the perfect emergency tool so that I know they are safe and can talk to me (power isn't an excuse anymore!) and a multi-purpose tool for my son, who loves to play games on his phone, and my daughter who loves the outdoors and hiking.
It already worked for my daughter during a recent power outage. She stayed "re-charged" and was able to let us know she was safe and sound! I can't express how big the grin was on my face knowing that this device kept her calm in that situation.
- MaryAnn Q. Fort Lauderdale, FL.
"Dependable"

The product is not only made from a high-quality material making it possible to last for years but its functioning and quality also prove that the invention itself is all about providing the best customer service. In times like these, when we are struggling with the pandemic and the economy is stumbling, what is needed is a device that you can depend on in all circumstances for charging all kinds of smart devices. You can now not only charge one but many devices at any given time
-   Tampa Bay News, on 03/24/2021, Tampa Bay News
"Perfect for big families"

My family is always on the go, we have 3 kids so making sure all our iPhones and iPads are fully charged is a must. Especially when we are in the car or at an event and they get bored. I just plugin their iPads into Voltzy to keep them charged and the kids are entertained for hours. I bought four for my family because the deal they have you buy 2 get 2 for free so why not get everyone a Voltzy.
- Cindy S, 05/06/2021 @ Voltzy.com