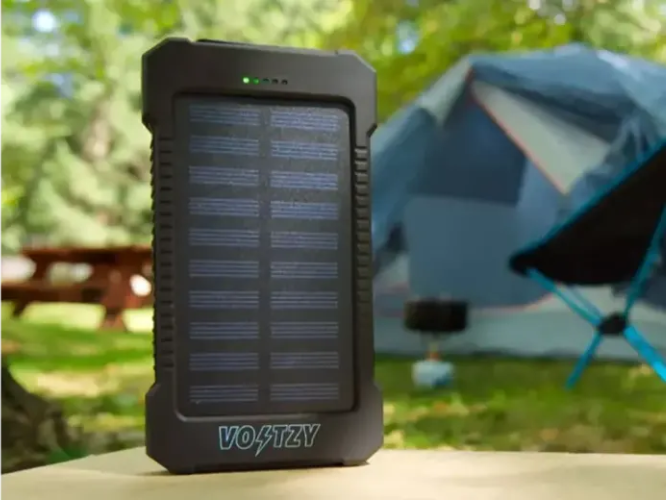 Crafted for your on-the-go lifestyle
Click Voltzy's side button for a bright LED flashlight or click twice for an SOS strobe

Charge up to two devices from 0% to 100% battery with Voltzy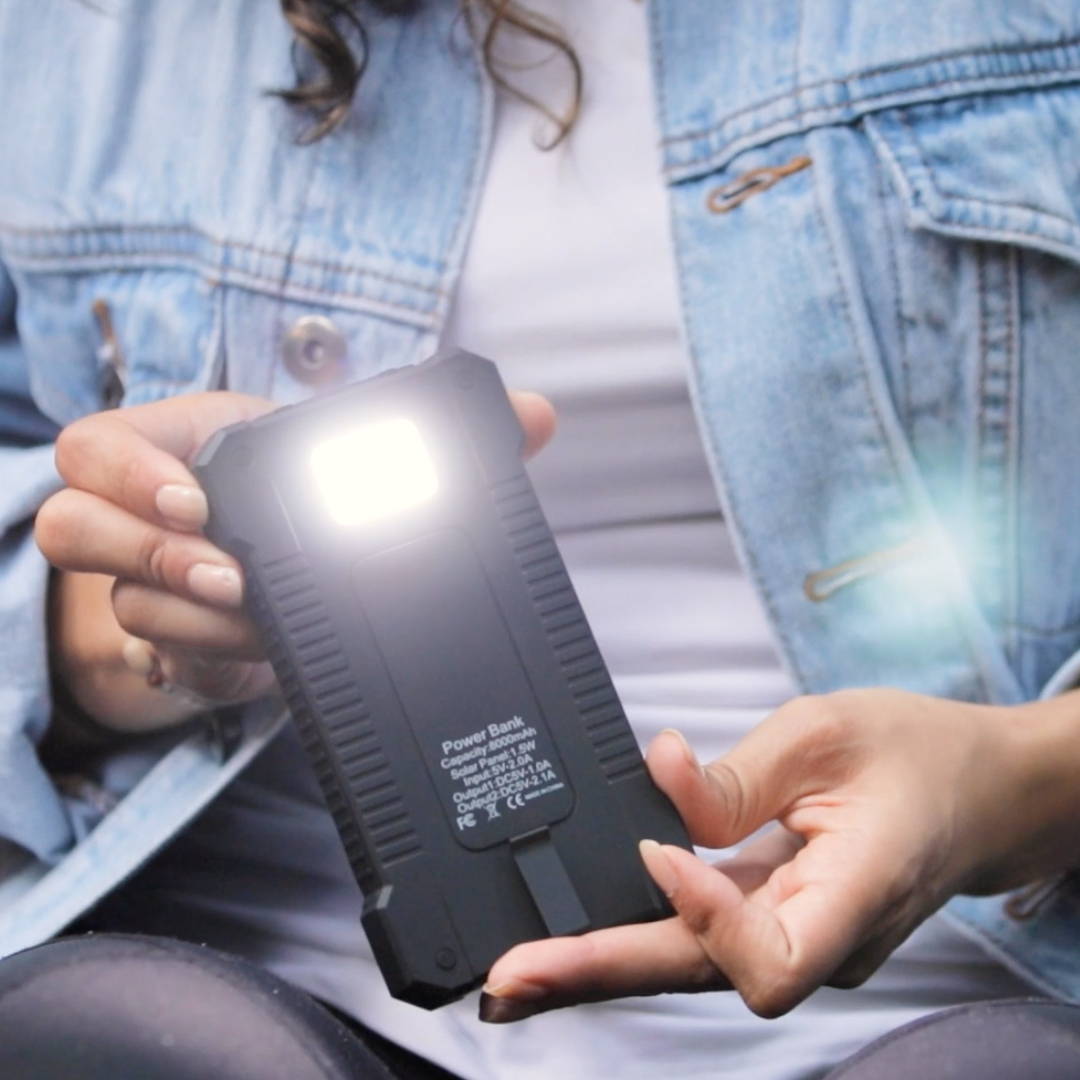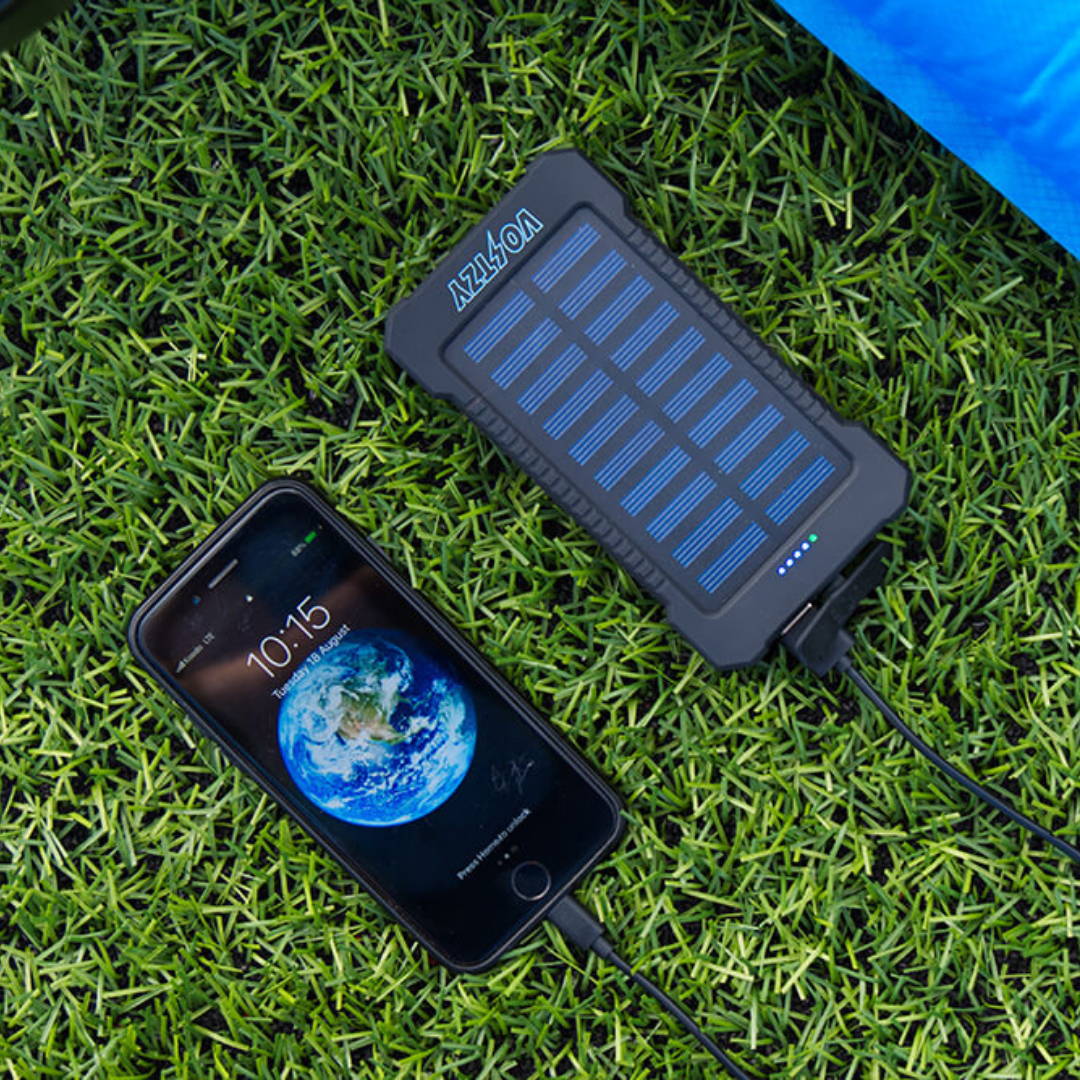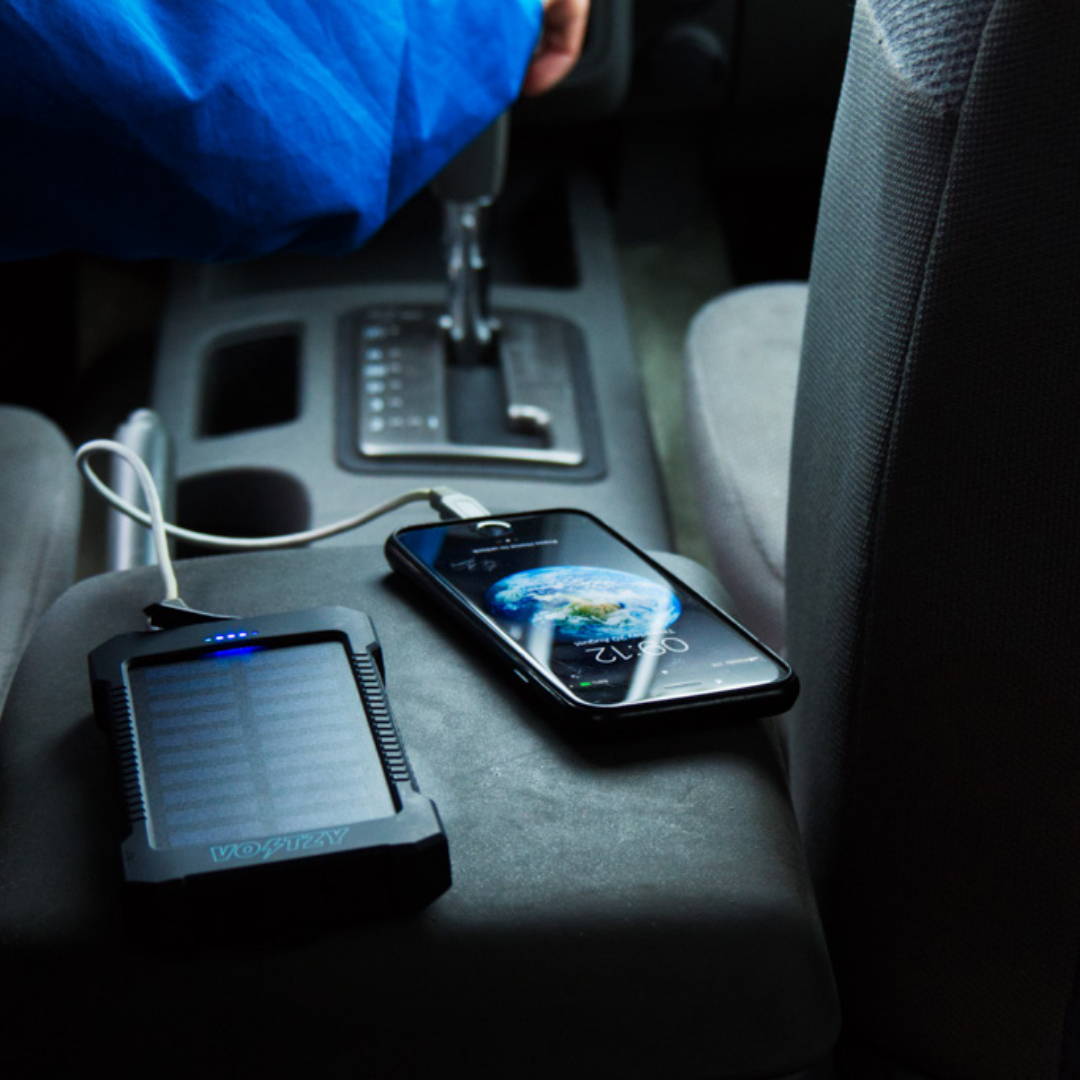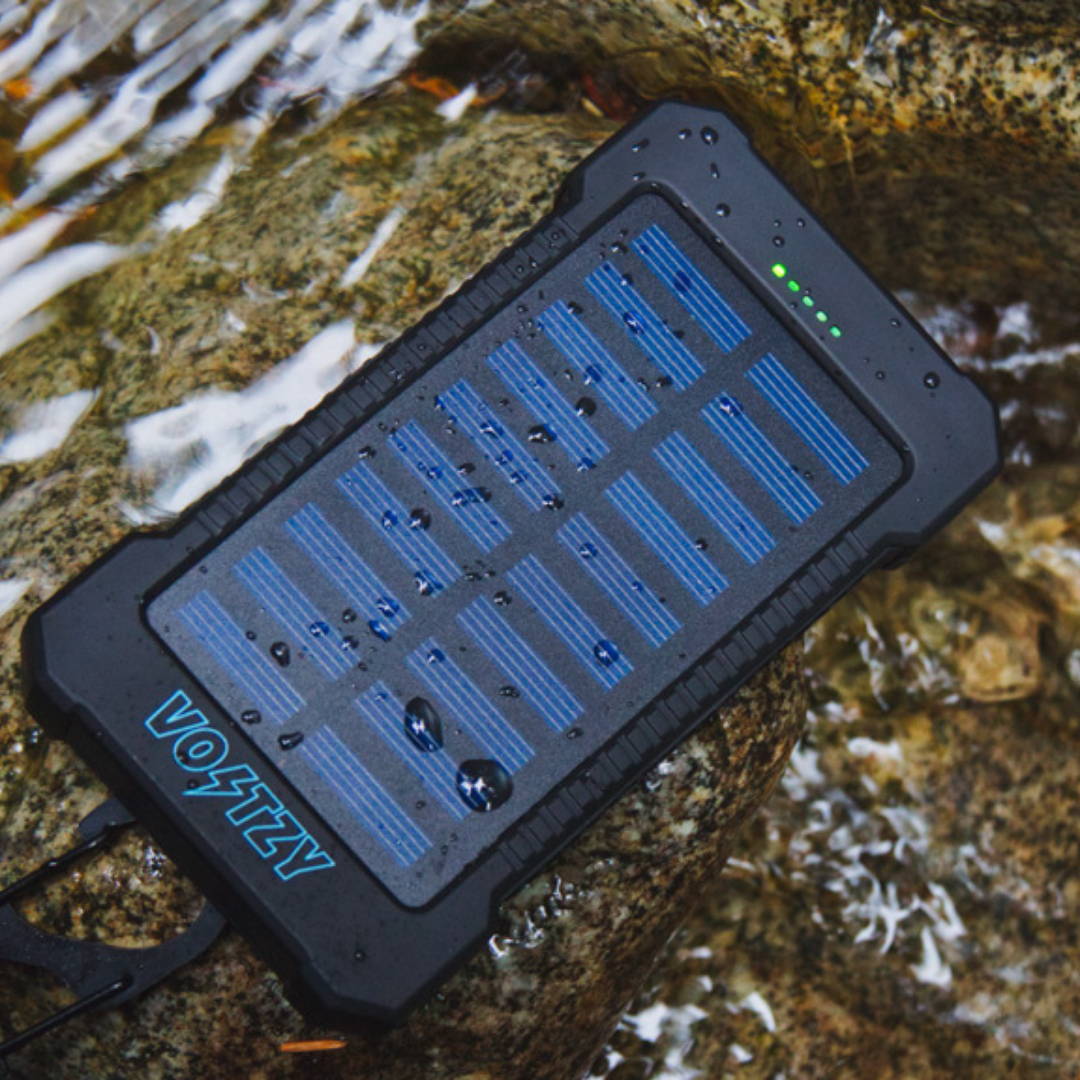 Voltzy Power Bank
Voltzy is the only back-up plan you need.
Voltzy is a power bank that charges using the sun's energy. Or, for daily, non-emergent use, you can charge it using a USB cable.
To power your devices, just plug your electronic into one of Voltzy's ports. By the time you get back from your walk, you'll see the battery at full.* Since Voltzy has multiple ports, you can charge up to two devices at any time, using pure solar power.
And the Voltzy powerbank doesn't just charge phones, it also powers iPads, tablets, e-readers, and Kindles.
With LED indicators, Voltzy reliably notifies you of its charging status. It also comes with a built-in flashlight, ensuring you're prepared for any emergency.
Voltzy was crafted for those leading an on-the-go lifestyle. As such, the powerbank is shock- and water-resistant, built with a rubberized shell for an easy grip. Clip Voltzy onto your belt or backpack, keeping the device charged with solar power!
*In ideal conditions, Voltzy can charge a phone from 0% to 100% battery in 3 hours. Ideal conditions refers to bright, direct sunlight.
Each Voltzy comes with:
Micro USB adapter
Carabiner
Charging Cable
Certificate of Warranty
Product Standards and Certifications
Your order will ship out the day of purchase or the next day, at the latest.
Standard Domestic Shipping: 3-5 business days
Expedited Domestic Orders: 2-3 business days
International Orders: 10-15 business days
For more information, click here.
---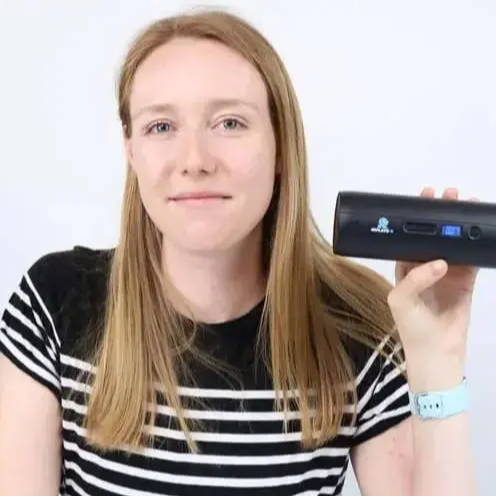 Got questions?
Our friendly Voltzy Specialists are here to help. Shoot us an email support@inflater.com. We'll get in touch within 24 hours!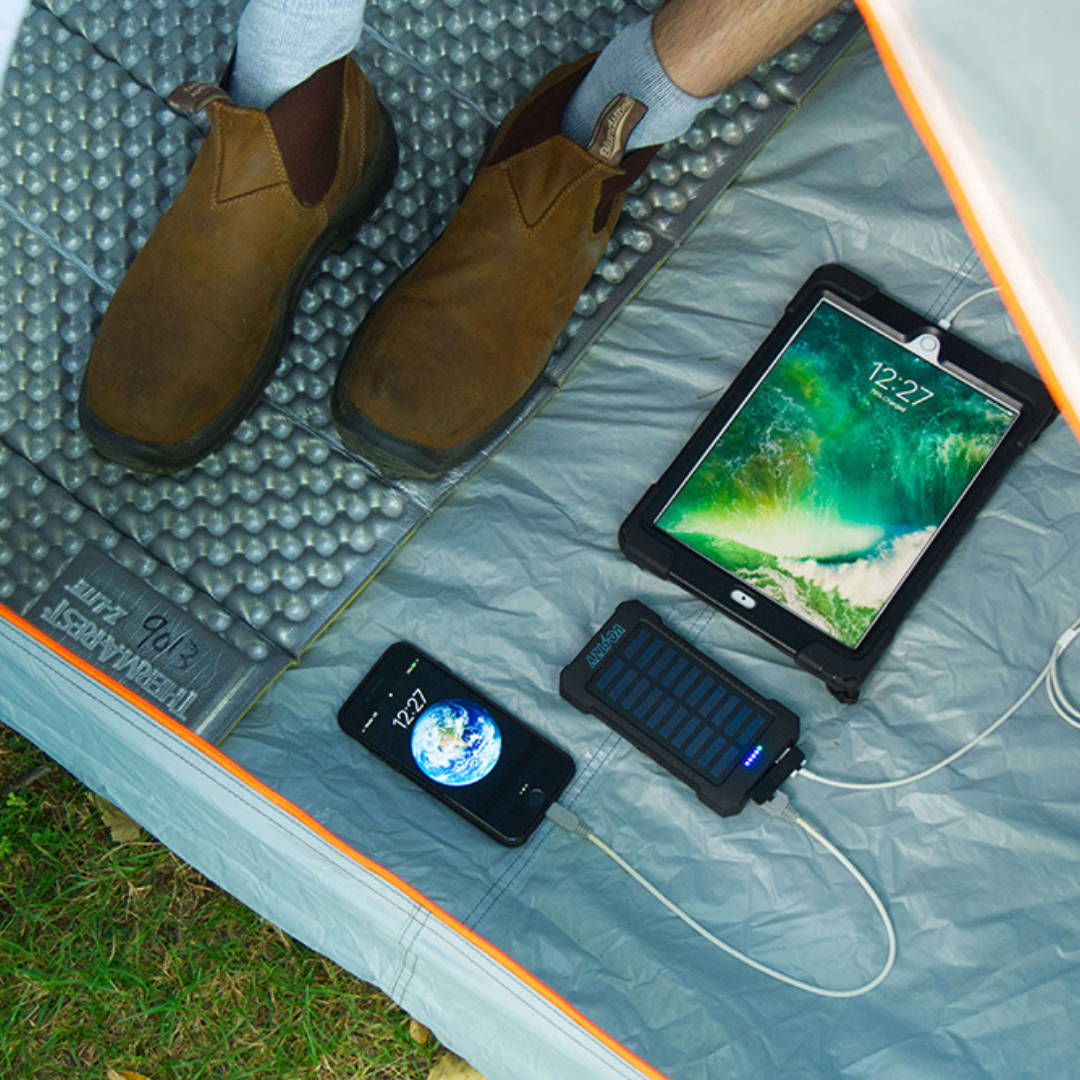 Voltzy was made for an active lifestyle. The portable and durable powerbank can go anywhere you go. Charge it before your adventures and remember to keep it in the sun.
Voltzy comes in handy for many activities including:
Camping
Hiking
Boating
Road trips
Running errands
Biking
Beach trips
Sporting events
Walking your dog
Skiing
Really, you never know when you'll need a charge. That's why whenever you're not near an electrical outlet, we suggest you bring Voltzy along.
Sign up for your free rewards account today

Made for loyal customers who love saving money. Refer a friend and earn 400 points!