How My Wife Saved Us Thousands With A Simple Emergency Kit

PLUS: Learn how I made sure to never be in this situation again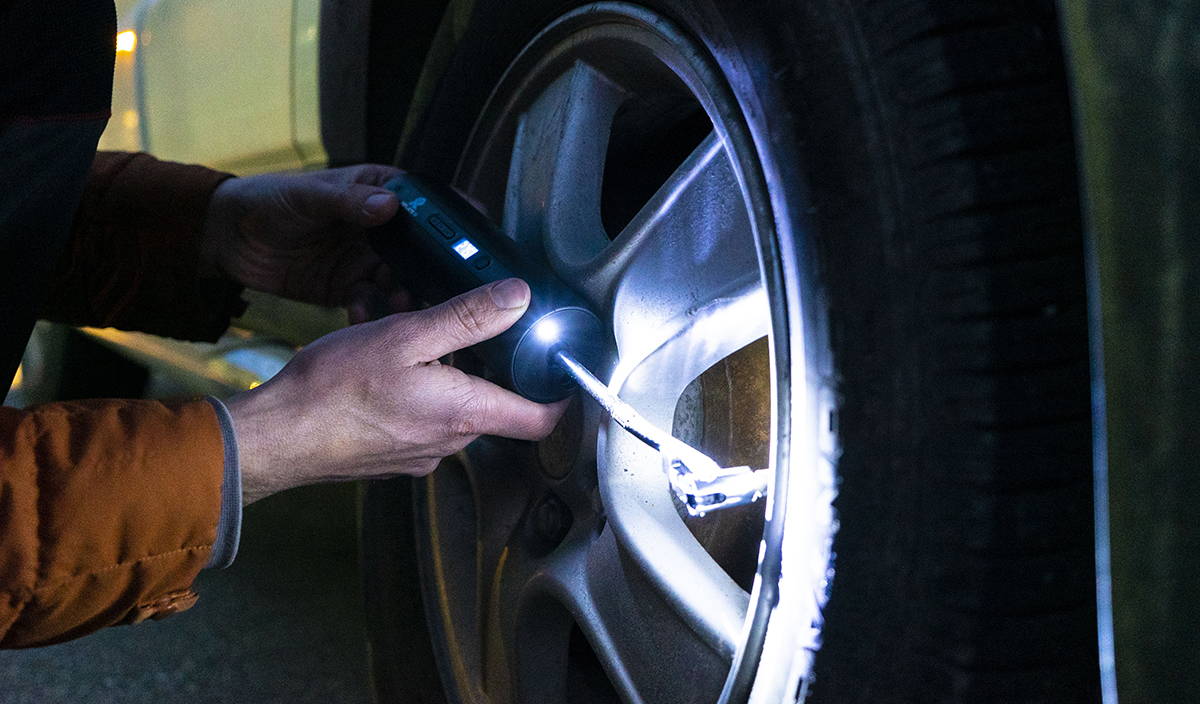 One of the main causes of stress for car owners is their tire pressure.
I'll be honest, I've driven a car my whole life and I've never felt comfortable inflating or checking my tires. I always feel like I'm doing it wrong.
I'm quite the handyman, but I often forget to check the tires before heading out on a long trip.
My wife had to stay home for work, but the kids and I were going for a weekend getaway!
After coordinating the two rascals and packing everything, I just wanted to hit the road. The last thing on my mind was inspecting the car.
It was about 3 months ago that we left for our nice vacation. Living in Colorado, we were hoping to go somewhere warm!
The trip was going as usual: I was driving, the kids buried in their games, the weather was fine — we just couldn't wait to be laying by a pool! Lily was so excited about wearing her new arm floaties.
About an hour in we hit one of these signs and none of us worried because the tank was full.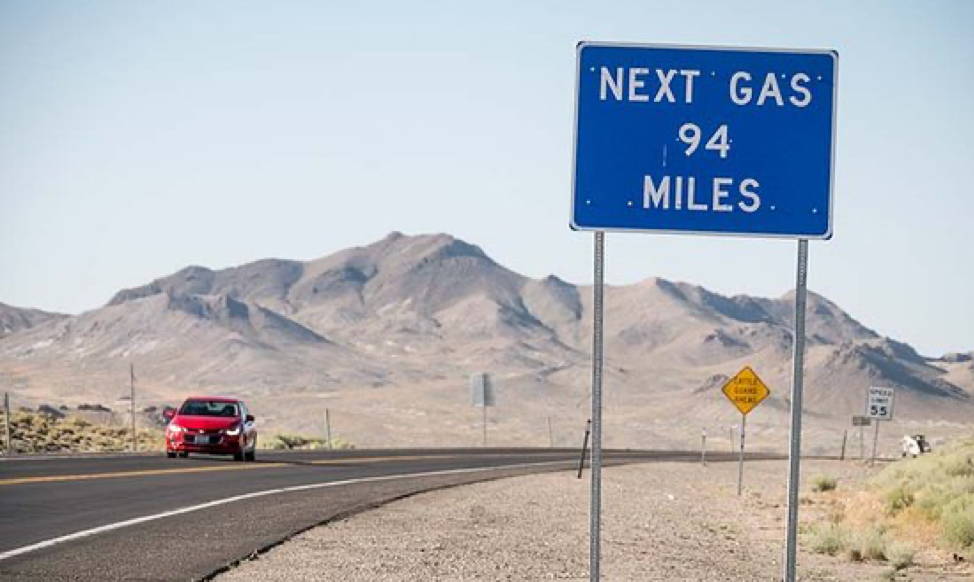 Around 40 miles after the sign, it happened. I looked at the kids and said:
"The car feels weird... I think our tire is flat"
I froze, remembering the sign from earlier. And the car didn't have a spare! The panic began.
I pulled aside and took a look at the tire. Sure enough, it was flat. And with a puncture hole!
I started figuring out what we should do... Driving seemed way too risky. And I just canceled our AAA since we hadn't used it in years!
I bit the bullet and decided to call a tow truck. With the kids occupied by their games, I glanced at my phone to make the call.
Of course, my battery was at 8%
Stress set in.
I had enough power to make one call. I had no phone charger to use in the car and no idea which tow company to contact. And what if they said they didn't have anyone to send? I couldn't waste my one call.
So I did what every husband would do… I called my wife.
"Hun, the kids are starting to get antsy. We have no spare tire. I have no clue which towing company to call. And my phone is about to die. Help me!" I yelped.
She giggled and said, "Check the small container in the trunk. There's an emergency kit I put in there last week. You should be fine."
Just as I was about to ask her questions, my phone cut out. I peered at the black screen and my reflection peered back.
I rushed to the trunk and ripped open the Tupperware bin. There were three items. Some black and sleek device, the size of a water bottle sat there. It was nestled beside a tire repair kit. I picked up the bottle-shaped device and right under it was another device that looked phone-shaped.
I sat on the bumper and read through the instructions.
The water bottle thingy was a compact air pump. And the phone thingy was a solar-powered powerbank, a phone charger. I couldn't believe my luck.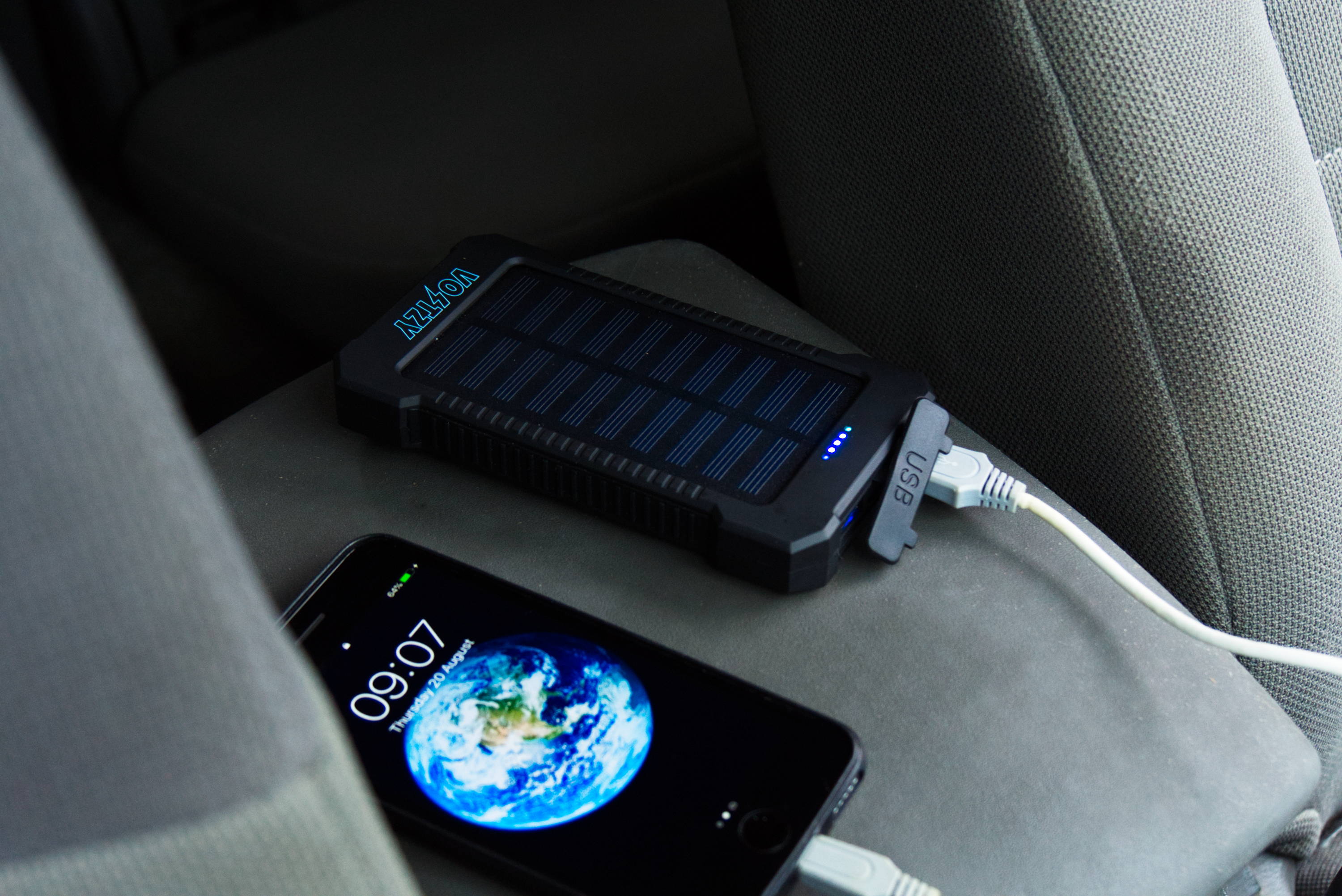 I connected my phone to the rectangular device with solar panels on its front. Right away, my phone was charging. I smiled, thinking of my wife's foresight. How did she always know?
I opened the tire repair kit and located the hole on my tire, then used the rasp tool to rough it up. I grabbed the pull needle and thread a repair string through. I squeezed out rubber cement onto the string and pushed the tool into our tire. Quickly, I ripped the tool back out, leaving the string in the tire's hole. A few minutes later I sliced off the excess string.
Next, I got out the air pump's tire connection and hooked it up. It read out our pressure 一 our tire was at a measly 14 PSI. I adjusted the pressure and pressed start.
I sat there in disbelief. This gadget was the size of my hand… It's not like it was a compressed gas machine or anything. While I trust my wife, I honestly thought there was no way this little thing could inflate a dead tire, especially with the extra weight of our packed bags.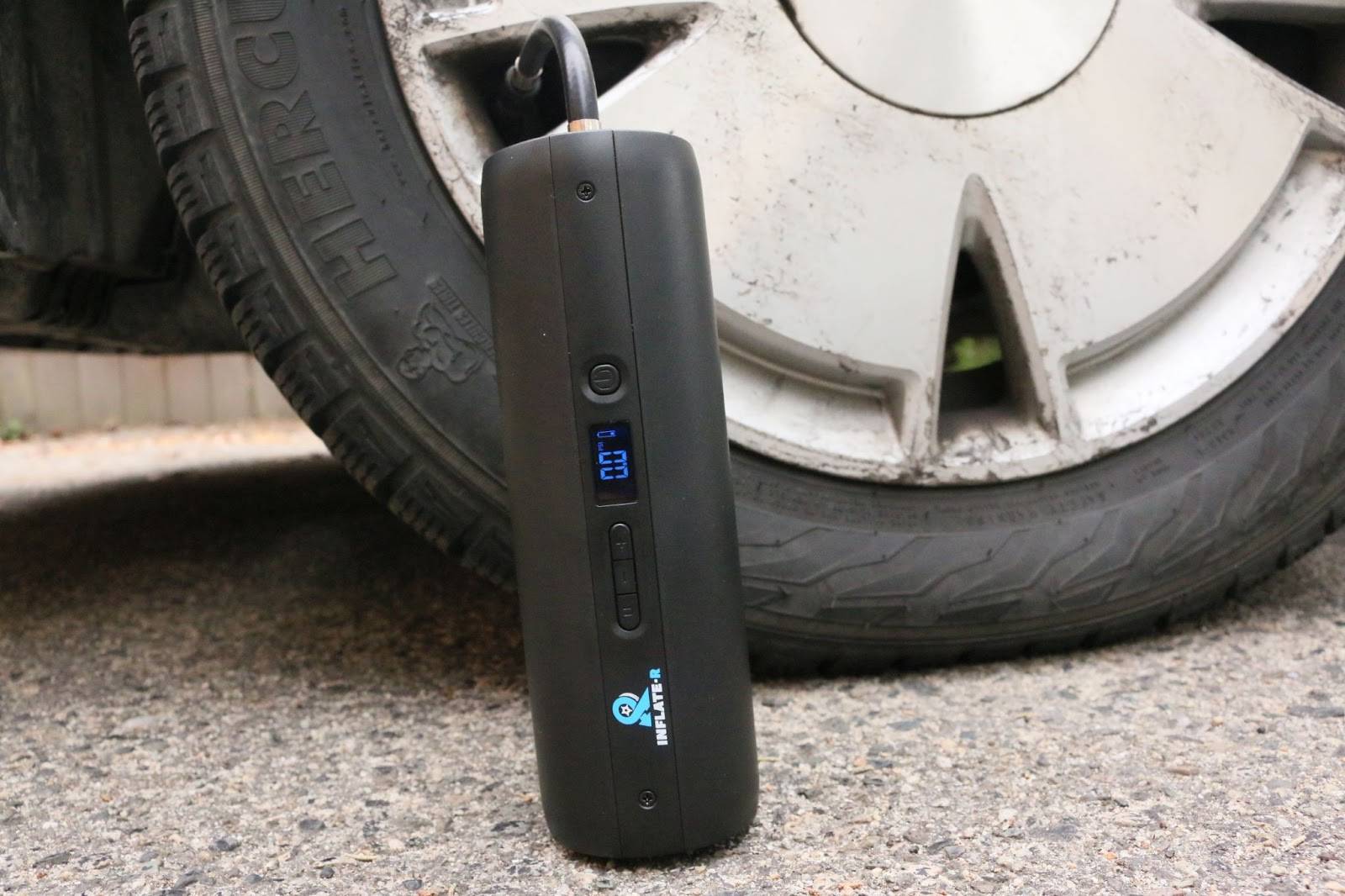 But sure enough, the tire slowly rose, lifting off the ground. 8 minutes later, our tire was pumped back up.
My kids asked for an update. I sat down in the driver's seat, turned around and looked at them. "We're good to go — thanks to your Mom! Buckle up you two."
When we arrived at the beach, I called my wife back and thanked her. The solar powerbank managed to bring my phone up to 85% during the trip. I just left it on the dashboard connected to my phone!
After hanging up, I decided to research the two devices and repair kit.
I couldn't believe how well all three worked. The three of them saved my day. And saved my wallet. Imagine spending money on the tow-truck, cab, mechanic work, a new tire and who knows what else? All while being stranded in the middle of nowhere!
So, I bet you're probably wondering…
What Was in That Emergency Kit?

1. Premium Tire Puncture Kit
The ideal tire repair kit with enough supplies for five punctures.
2. InflateR
A compact and portable air pump capable of inflating up to 150 PSI.
3. Voltzy
A portable solar powerbank that charges up to two devices.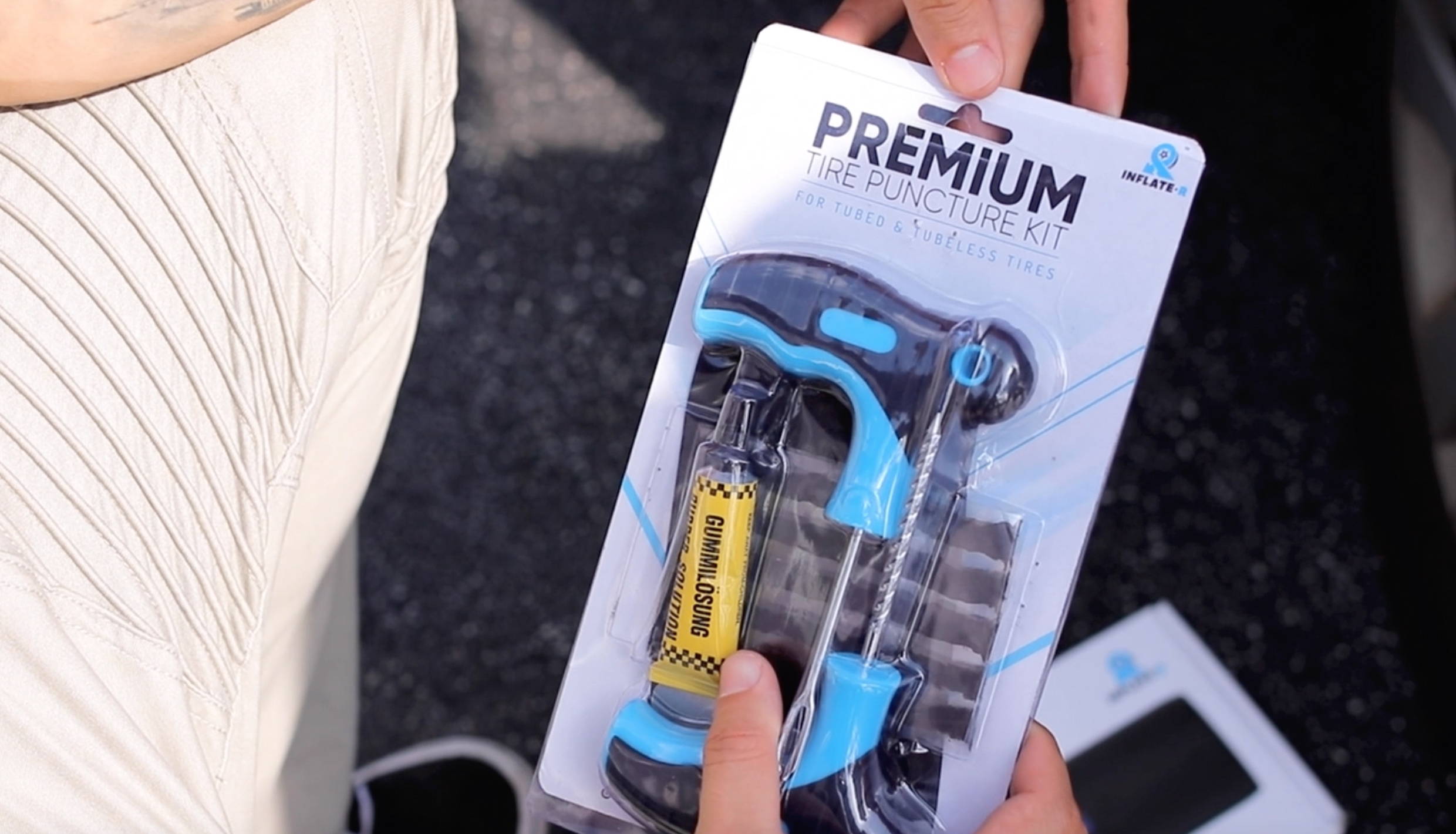 The Premium Tire Puncture Kit

Did you know the average American experiences 5 tire punctures in their lifetime?
Built to make tire repair easy and speedy, The Premium Tire Puncture Kit includes a rasp tool, pull needle, repair string, rubber cement, a knife and pouch. To repair your puncture, take out the object from your tire. Then grab the rasp tool, insert it into the tire and roughen up the hole.
Next, take a repair string and thread it halfway into the pull needle. Add some rubber cement onto the string and insert the pull needle into the hole. Quickly pull the needle tool back out. The string should be left in the hole for 5 minutes. Once it's dried, use the knife to cut off any excess string. That's it!
With the Puncture Kit you can repair your own tire in under 10 minutes without any mechanical training. I even taught the kid's Grandma how to use it after our trip. And if she can repair a tire, so can you!
Each Puncture Kit comes with 5 repair strings, so you'll be covered for every one of your flats.
---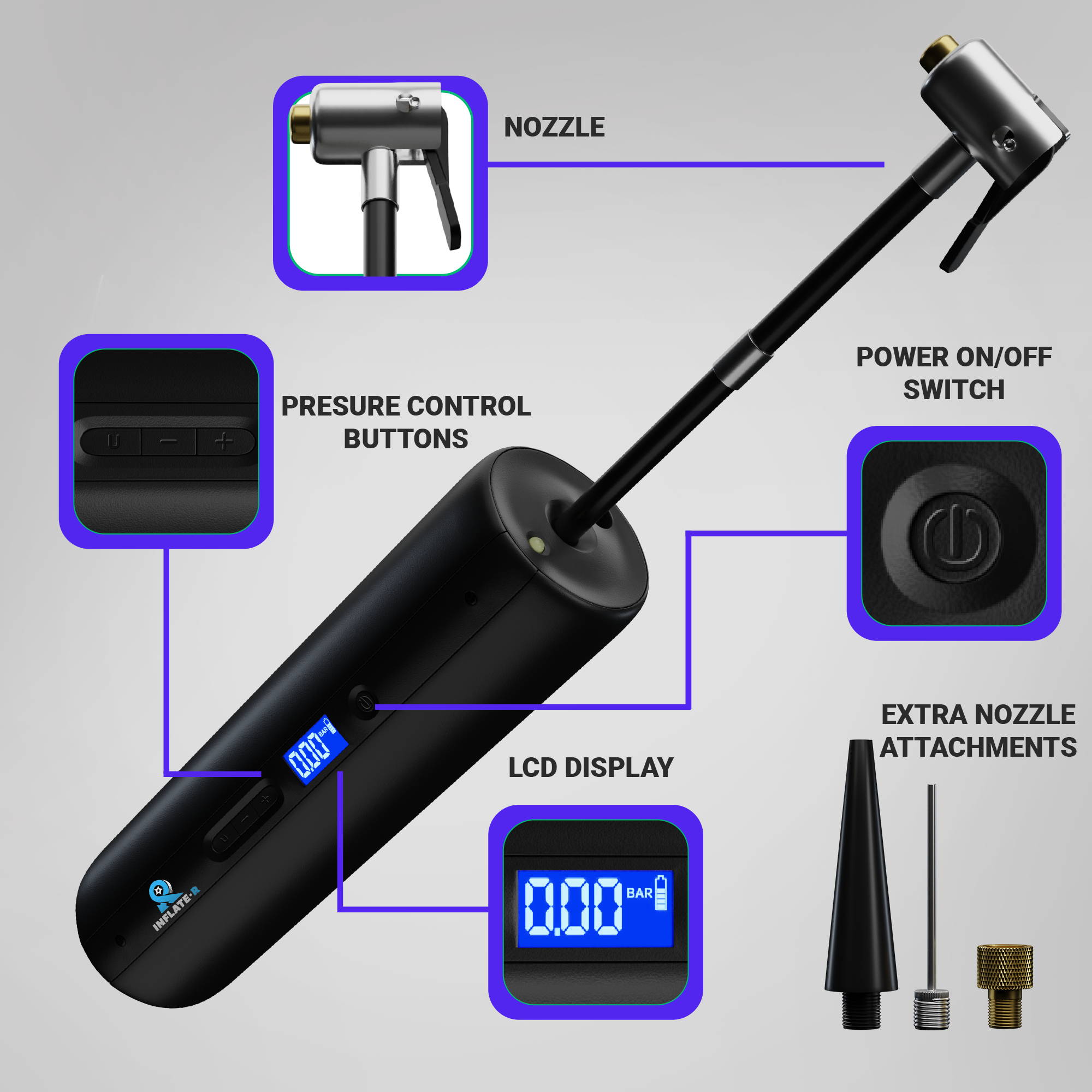 Small, compact and completely wireless, InflateR is the portable pump we've all needed.
It comes with a nozzle that plugs into the top of the device and into your tire. The moment you plug it in, your current PSI will appear on the LCD screen. The screen is bright enough to use any time, even at night.
All you do is set your desired PSI, hit start and InflateR instantly drives air into your tire. Once completed, the device automatically turns off. Then you're on your way!
Since InflateR is made for all emergencies, it also doubles as a power bank and flashlight! That way you can charge your phone and seek out help in the dark.
What Makes Inflate-R Special?

Compact Design
You'll never lug around compressed air after trying out this device
LCD Display
Stranded at night? The bright LCD display keeps you prepared
Power Bank
Every InflateR duals as a portable power bank, with a USB charging cable and a car adapter
Speedy Inflation
Late for work? Inflate your tire in 8 minutes and blame your tardiness on the traffic!
Easy to Use
InflateR is made for everyone, meaning it won't strain your joints like hand pumps do
Ultra-High Pressure (up to 150 PSI)
Inflates almost everything with the included bike, balloon and football nozzles
Being one of the only devices that inflates to 150 PSI, InflateR is a leading-edge invention. With most hand pumps, bike tires are just not an option. But with InflateR, pumping those pressurized tires is painless.


---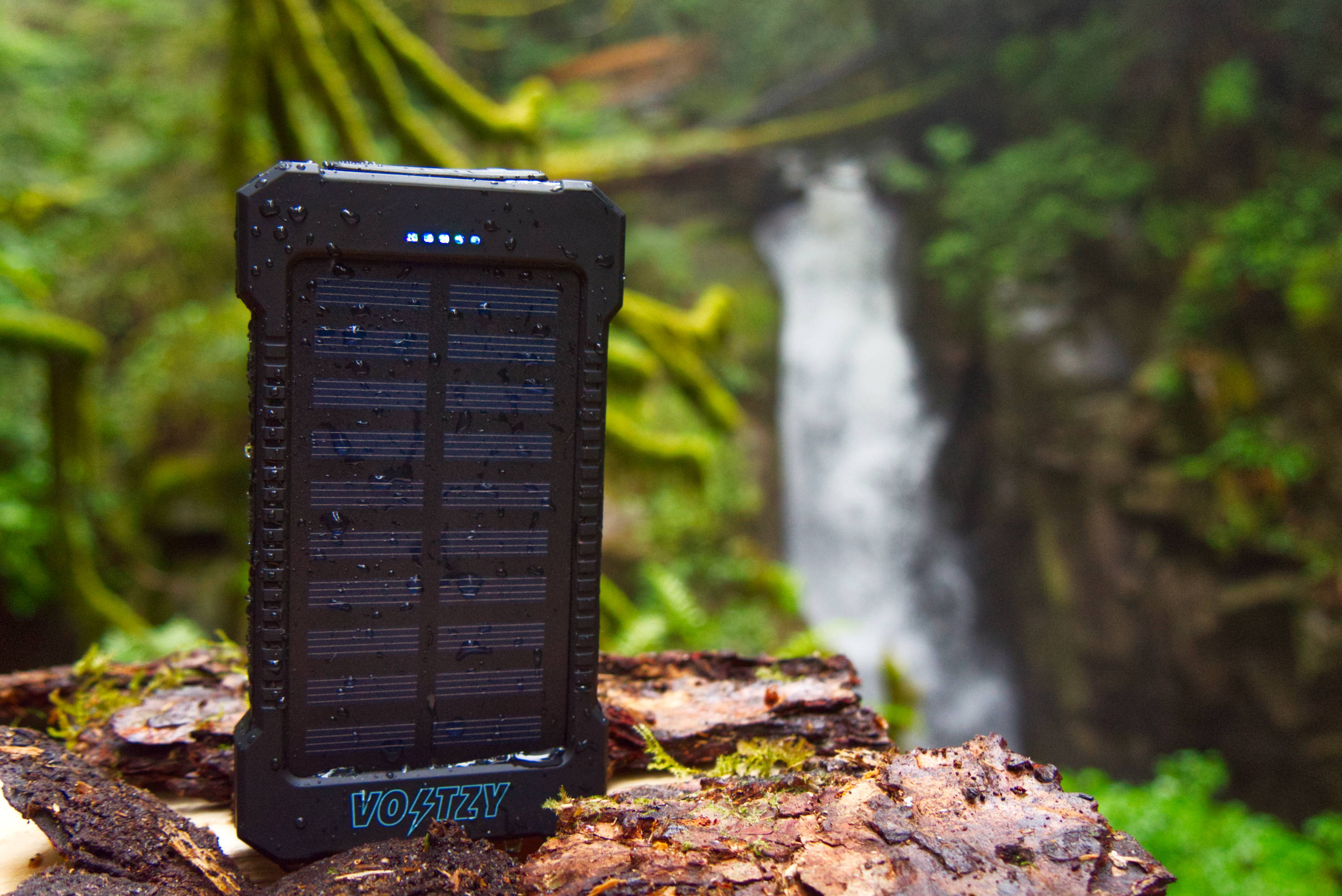 The Voltzy is a solar powerbank for people who like reliable, built-to-last devices.
Voltzy uses the sun's energy to charge via solar-panels. Once charged, it's ready to power your devices. Just plug your device into the cable provided and connect the other end to Voltzy. Your device will begin charging immediately!
With two ports, Voltzy can charge multiple devices at once. Your iPad or tablet need a pick-me-up? Phone low on battery? Charge both with Voltzy!
Completely portable, Voltzy keeps you safe in emergency situations. Power outage? Lost and isolated? Car broke down? Voltzy is up for the challenge.
With every Voltzy, you'll also receive a carabiner. Personally, since I found my Voltzy, I hook it to my belt or backpack. That way, it's there when I need it and out of the way when I don't.
But Voltzy isn't just for emergency use. It's the perfect gadget for everyday situations. Love hiking? Check! Camping? No problem! Need a battery boost while in line at the grocery store? Done!
With the LED indicators at the top, Voltzy will notify you how charged it is. That means there's no guesswork involved with Voltzy.  
What you get with your Voltzy:
Charging Cable

Certificate of Warranty

Single and Double-lock Carabiners
What Makes Voltzy Special?

8000 mAh of Battery Power
Voltzy comes armed with a strong battery that charges two devices from 0 to 100% at the same time.
Built-In LED Flashlight
Press the side button to turn on the LED flashlight so you can signal for help in emergencies or see in the dark. Click the button twice to turn on the emergency strobe.
Multiple Charging Ports
With two charging ports, Voltzy lets you utilize solar energy for multiple devices at once. Now I power both my phone and iPad at the same time!
Water-Resistant and Durable Casing
Splashes and slips aren't a worry for this power bank. Stressed about the elements? Voltzy is built to last. With an IP67 waterproof rating and a rugged case, you can take Voltzy anywhere.
5W 2AMP Solar Panels
The built-in solar panels charge Voltzy's internal battery. All you do is leave Voltzy out in the sun (or any bright light) and it'll charge. It even works on cloudy days!

I'm sure you're curious about these emergency tools. Well, for a limited time, the company is offering a discount on bundles.
That means if you purchase more than one device, you're going to receive an exclusive discount!
Emergency situations are always stressful. That's why it's so important to be prepared. With these emergency tools, you'll be able to put the crisis behind you.
Priced for everyone, the Premium Tire Puncture Kit sells for $25. Less than the cost of a new tire or a mechanic's repair, your wallet will thank you!
Made for all budgets, InflateR starts at $75. It's important you feel safe in your vehicle.
For less than the cost of a tow truck, InflateR will keep you prepared for anything your tires throw at you!
But what about Voltzy? The solar-power plant starts at $50. Think about the cost of a generator to charge your devices when there's a power outage. Think about being able to call your loved ones in chaotic times. Voltzy's got your back.
To recap the prices:
Premium Tire Puncture Kit = $25
Inflate-R = $75
Voltzy = $50
For all three, you would pay almost $150. But today only, you're being offered an exclusive discount on bundles! Check out your options below:
---
16% Off 1 InflateR
Retail: $79.50
$67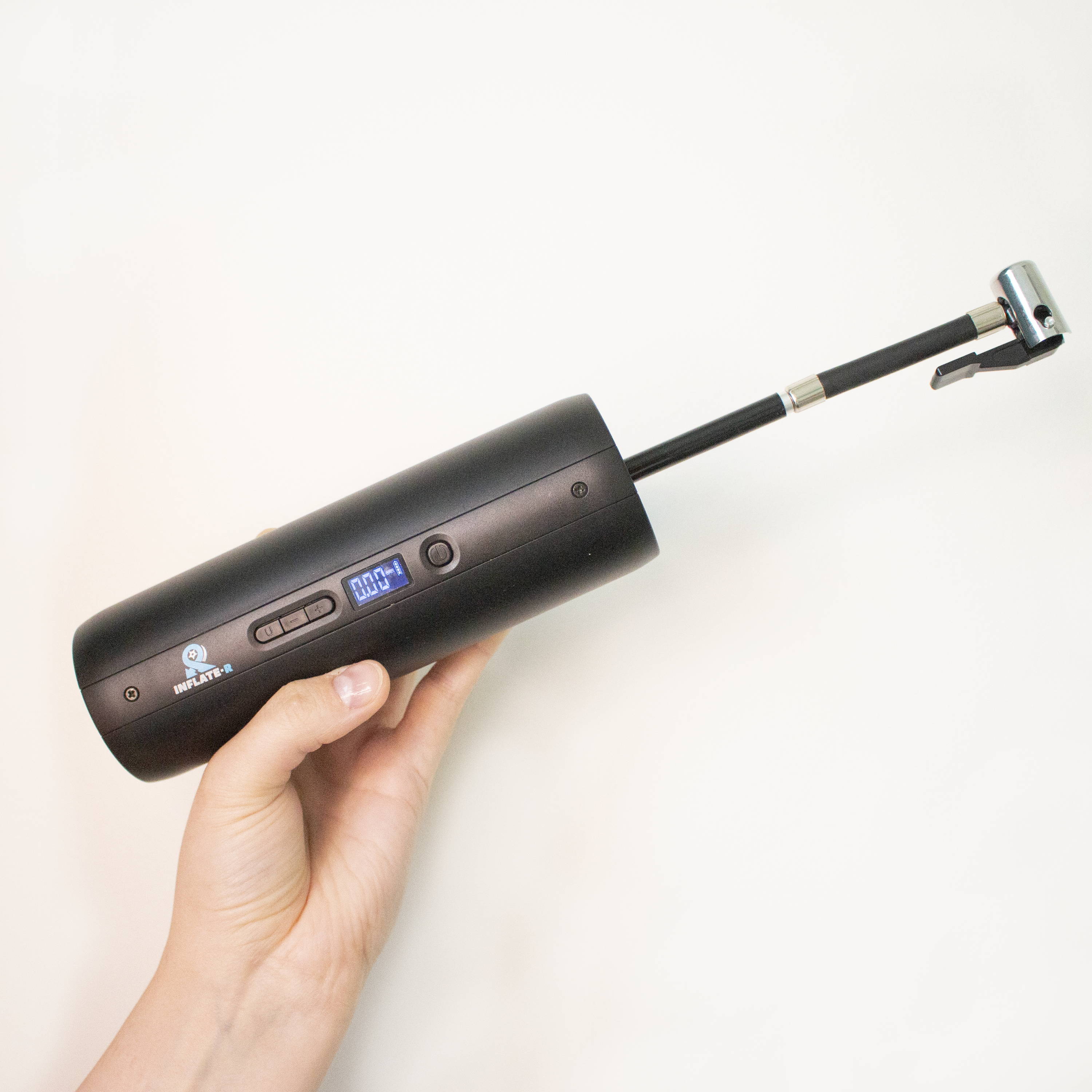 ---
54% Off
2 InflateRs & 2 Premium Tire Puncture Kits
Retail: $200
$112.50
+ Free Shipping
---
57% Off
3 InflateRs & 3 Premium Tire Puncture Kits & 1 Voltzy
Retail: $350
$150
+ Free Shipping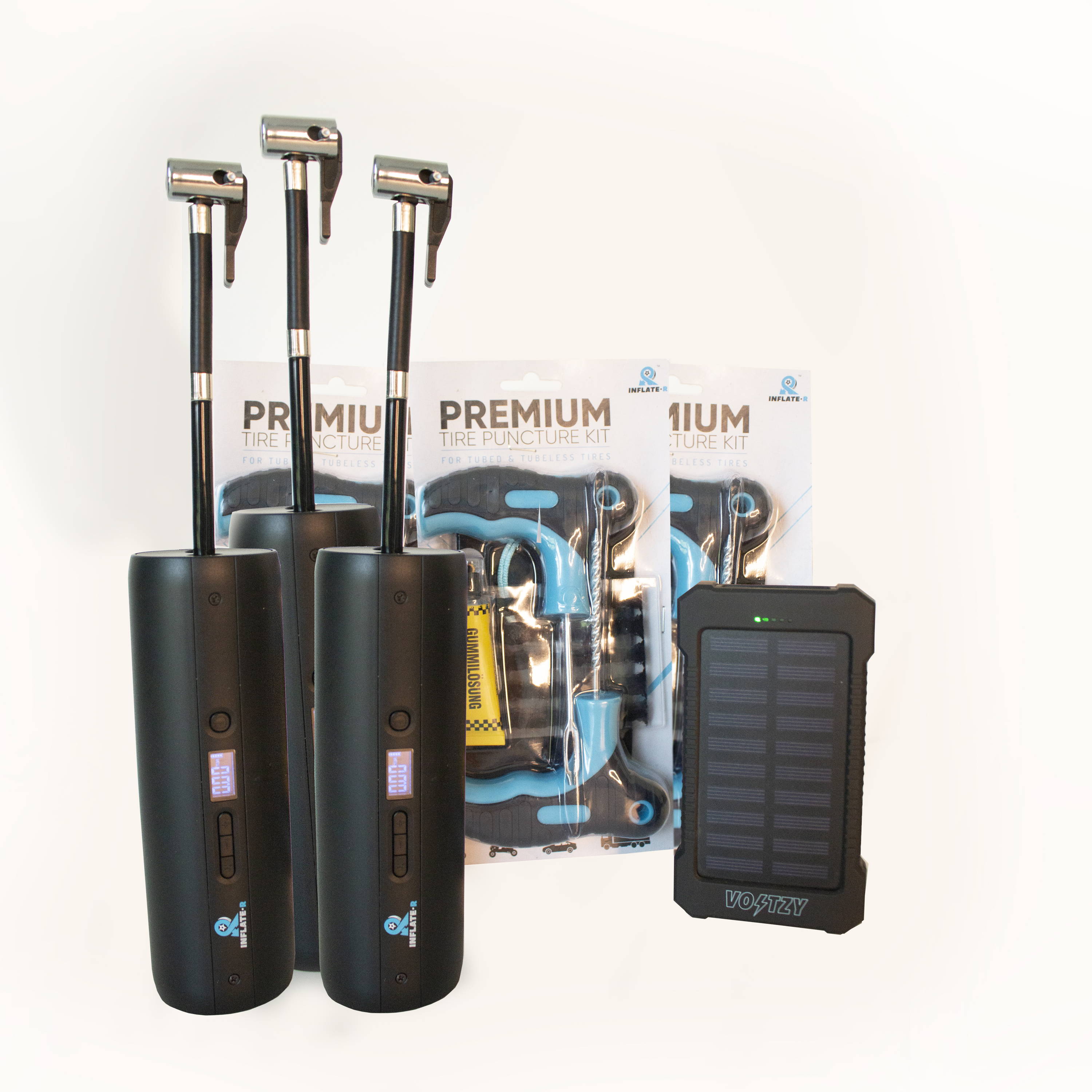 ---
None of us are looking to break our bank buying emergency kits.
Usually just getting into that market, you'll find prices well over $200. Not to mention, those devices all need to be plugged into the wall.
Who knew you could fix a tire puncture in only 15 minutes? I've never even heard of a cordless, portable and lightweight inflating device until I tried out InflateR. And I didn't even know solar powerbanks existed!
All three retail for $150, and that's without your exclusive bundle discounts! When compared to the cost of a trip to the mechanic, tow truck or needing a brand-new tire… it truly is a no-brainer.
Not to mention the amount of stress it alleviates. Tire pressure is one of those on-going stressors for any road trip…
Did I check the tires before-hand? Did I check it properly? Where is the nearest gas station to pump up? Did I pack the spare? Can I afford a tow truck right now?
And with my phone's iffy battery, I almost couldn't even call a tow! What then? I would've been stranded without Voltzy! Stranded with kids...
This emergency kit ensures unexpected tire punctures won't stress you out.
Why spend your time frantically fretting, when you can fix your tire with the Puncture Kit then plug and pump with InflateR? Instead of hours and thousands wasted, you're good to go in just 15 minutes. Instead of stressing about your phone battery, you'll always have a charge, no matter where you are.
I'd rather lay on a beach than set up shop at the mechanic's. And that's exactly what this emergency kit did for me.
Crush your road trip with InflateR's Emergency Kit today.
---
InflateR is on SALE today!
Claim Your Discount Now
Choose the number of devices you want for you, your family and your loved ones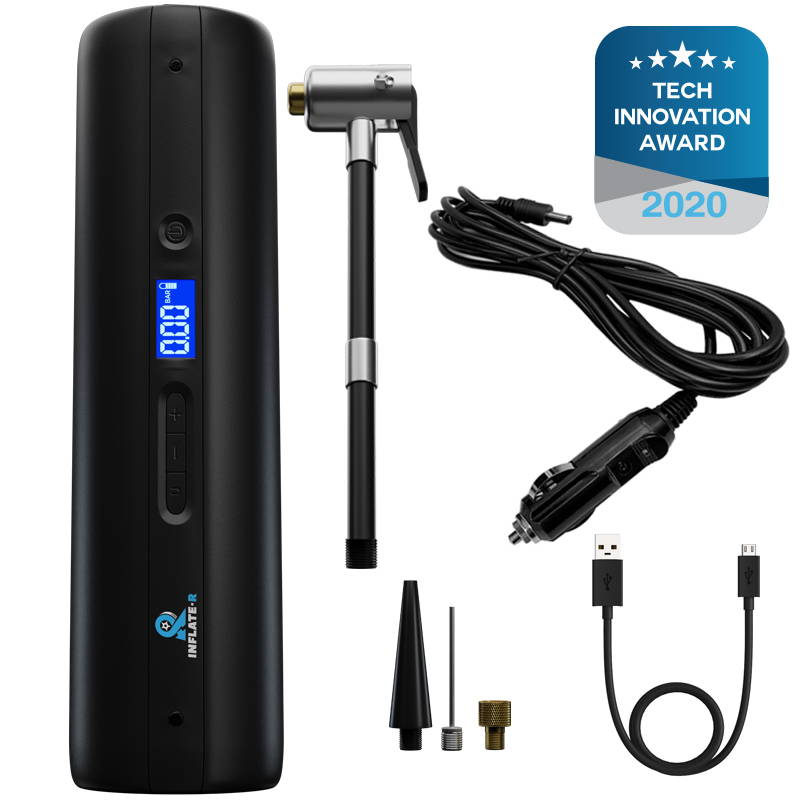 Inflate your tire in under 8 minutes!
Inflate-R
Retail: $

79.50
On Sale:

$67
Up to 50% off when you buy 3.
Inflate-R is a portable and lightweight tire pump that conveniently fits in your glovebox or backpack.
Crafted with a safety flashlight, Inflate-R duels as a powerbank. This all-in-one device pumps up to 150 PSI, ensuring you're always prepared and feeling safe.